This Week in Japan
Monday, October 28, 2019
Top news stories in Japan for the week of October 21, 2019
News Stories for the week of October 21
Emperor Naruhito Enthroned 
10 dead as heavy rains flood Western Japan
Foreign resident population in Japan reaches record high
Government to tighten gasoline sales in wake of Kyoto arson attack
Emperor Naruhito Enthroned 
On Tuesday October 22, Emperor Naruhito claimed his place as emperor of Japan at his enthronement ceremony by stating, " I now … proclaim my enthronement to those at home and abroad." The ceremony called Sokui no Rei, was attended by around 2,000 dignitaries from 180 countries and regions. Even though Naruhito officially became emperor on May 1, the enthronement ceremony marks his official declaration of enthronement. There was a parade that was scheduled for after the ceremony so that the public could see the royal couple enroute to their home in Akasaka, however the parade was postponed to November 10, out of consideration for the victims of Typhoon Hagibis. In addition over 500,000 convicts of petty crimes were pardoned and their rehabilitation into society expedited to mark the enthronement of the new emperor
To read more here are some useful links: Nikkei Asian Review The Guardian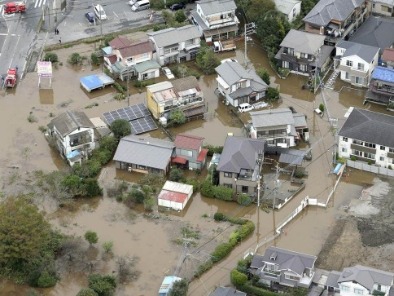 10 dead as heavy rains flood Western Japan
Chiba and Fukushima prefectures were once again hit by heavy rains due to typhoons causing mass flooding leaving 10 people dead and others injured. In Chiba city, mudslides crushed three houses, killing three people who were buried underneath them, others were found buried in their cars also due to mudslides. rescue workers had to use helicopters for the search and rescue efforts because large areas of land were submerged by water from overflowing rivers that covered roadways and train tracks. Farm damage due to the typhoons has crossed over ¥100 billion across 38 prefectures that were affected by the winds and rains. 
To read more here are some useful links: The Independent  The Mainichi
Foreign resident population in Japan reaches record high
The foreign population in Japan has reached a record high clocking in at 2,829,416 registered foreign residents at the end of June. The number was up 3.6 percent from the previous high set at the end of last year. In addition the total number of foreign students seeking employment in Japan also reached a record high, a total of 25,942 students switched their status of residence in 2018 to one that permits employment in Japan, up 3,523 from a year earlier. However, those arriving for employment in Japan under the new visa scheme that was created in April for blue collar workers was at just 616 people vastly different from the 47,550 people they expected to arrive by the end of fiscal 2019. 
To read more here are some useful links: Japan Times  Article 1   Japan Times Article 2
Government to tighten gasoline sales in wake of Kyoto arson attack
In response to the Kyoto arson attack the government has decided to tighten rules on gasoline sales in containers. Up to now sellers were suggest to do ID checks on customers purchasing gasoline in containers but customers were allowed to refuse to show ID. Now the Fire and Disaster Management Agency will make it mandatory for sellers to check ID and inquire about the use of the gasoline. The new ordinance is likely to come into effect in February 2020. 
To read more here are some useful links: Japan Today   The Mainichi
----------------------------------------------

Want to work in Japan?
class="img-responsive" style="width:60%"
3 days English Career Program –Teaching Assistant for High School Students
Education, Training
WiLLSeed Co., Ltd.
We are seeking Teaching Assistants who have great passion to communicating with high school students. This role will help our 3 Days English Program at Girls' High School in Kanagawa In this program, students will lear...