Basis
Most students start from the beginner level, which means they need to build the basis of English. Experienced teachers take care of teaching grammar and vocabulary.
Speaking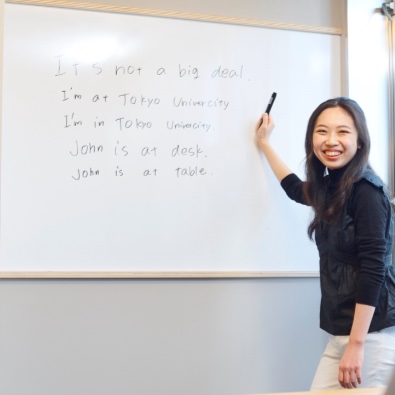 The most important thing for both students and teachers is to enjoy speaking with a lot of fun. Teachers focus on not only teaching English skills, but also introducing international cultures or worldwide topics which students are interested in.
Practical
As students improve their English skills, they start more conversational lessons such as a debate, role-play, or discussion. In this part, they can learn communication expressions which native speakers daily use. 
会社の沿革
We do lessons towards both adults and children. We aim to make each student fun and satisfied. To achieve the goal, all the teachers must be enthusiastic and passionate about teaching. We'd like to expand the school so that many people can have an opportunity to interact with fun English.
貴社の雰囲気や、従業員の方の雰囲気がわかる写真を掲載して下さい!
求職者たちは貴社の雰囲気や、どんな方が働いているのか等に興味を持ちます。 下記の写真フォルダーから写真をアップロードしてください。