About Us
Currently around 30+ babysitters are working in the big cities like Tokyo, Nagoya, Kyoto and Osaka. Most are aged 20+ including university students, qualified teachers, house wives, parents and nurses. They are all fluent in English and many are even native Japanese, French, Spanish, German, Italian, Spanish, Russian, Mandarin or/and Korean speakers. As we have been delivering customized, dependable and affordable care for both local and guest families more than 10 years, we need more English-speaking babysitters for the needy families.
English lesson
Most of our clients need our service to be offered in English. Some want French or Mandarin speaking babysitters. No Japanese skill is needed.
24/7 shifts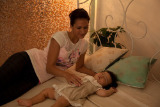 As we are open 24/7, you might have to serve until midnight. But please do not worry. You will be safely sent back home by taxi even if you miss your last train.

daily support

Our task includes; school pick-up/drop-off, feeding, bathing, changing, tutoring, singing, reading, playing, etc. No need to clean nor cook by the way.

In the summer of 2010, I started "babysitters & company," the first English-language babysitting service in Japan, based on my experience babysitting in the U.S. and Spain when I was a student, with the intention of expanding the babysitting business in Japan. In the early days of the company, there weren't many babysitters available, so we had to have them work two or three shifts a day, from morning to night, and I had to babysit for them in English to keep up with the demand, so I had to travel around Tokyo to visit families.
The following year in 2011, many babysitters returned to Japan after the Great East Japan Earthquake. We were worried about the future, but thanks to the gradual return of our pre-earthquake babysitters, we were able to continue our business. Since 2012, we have started to receive requests from not only local families but also hotels in Tokyo, and in 2014 we were able to offer babysitting services in Kyoto and Osaka, and from 2019 we will be able to offer babysitting services in Nagoya.
However, in 2020, due to the spread of the new corona virus (COVID-19), the number of requests from international guests has dropped dramatically to almost zero. At present, we are mainly providing our services to local expat and international families, but requests from hotels and guest families have been gradually recovering since this fall.
Please note that some of our babysitters are working in Japan for a long period of time as family members or spouses of Japanese people, while others are in Japan for a short period of time on a working holiday, language study or exchange program. We would like to continue offering highly talented and skilled babysitters for your children so please allow us there are times when we have to change babysitters when they must leave the country.
Our Mission
Although we receive many applications every day, less than 10% of the babysitters are actually hired. However, we are recruiting good candidates all year round. So if you are of any nationality or age and can speak English and want to be involved in babysitting in Japan, we would love to hear from you.
Do not forget to show some photos of your company!
Go to "Media Gallery" below and click on Add New Media to upload a photo